Sistema de ósmosis inversa comercial de la mejor calidad de un experto en China
09-02-2023
Sistema de ósmosis inversa de agua de mar comercial
Sistema comercial de ósmosis inversa de agua de mar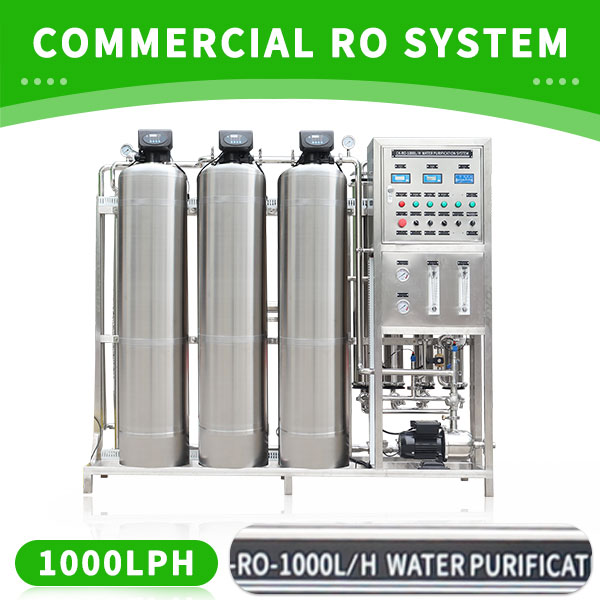 Rango de capacidad
: 2m3 a 38m3/Día
Diámetro de la membrana
: 2.5″-4″
Presión laboral: 700-1000psi
Agua de alimentación TDS: 20000-40000ppm



¿El agua de ósmosis inversa es buena para la salud?


Tenemos un artículo muy detallado sobre este tema. El agua de ósmosis inversa no contiene bacterias ni virus. Por lo tanto, es muy saludable, pero a veces, recibimos preguntas de nuestros clientes sobre la eliminación de todos los minerales saludables del agua, y preguntan si es bueno o no. De hecho, estamos obteniendo nuestros minerales diarios de nuestra comida. Si desea obtener todos los minerales para su cuerpo del agua potable, debe beber al menos 100 litros de agua por día, pero es imposible en consecuencia.¿Cómo elegir el filtro de agua adecuado?Primero, investigue su agua potable y averigüe qué contaminantes están presentes. Puede encontrar su sistema de agua y las pautas de salud de contaminantes en la base de datos de Chunke Tap Water, que se acaba de actualizar. Si tiene un pozo privado, considere la posibilidad de analizar el agua en consecuencia.




Sistema de ósmosis inversa comercial el diseño se basa en el informe de prueba de la fuente de agua.Utilice la Guía de compra de filtros de agua CHUNKE para seleccionar el filtro adecuado para su familia. Por lo tanto, los diferentes tipos de filtros pueden eliminar diferentes contaminantes. Haga clic aquí para obtener un
 Guía paso a paso para seleccionar un filtro de agua del grifo para el hogar.¿Cuáles son los inconvenientes de los filtros de ósmosis inversa?Los sistemas de ósmosis inversa tienden a costar más que otros tipos de filtros y requieren instalación debajo del fregadero. Para muchas familias, estos costos, más el costo de los cartuchos de reemplazo, pueden ser una barrera importante.Los sistemas de ósmosis inversa también tienden a desperdiciar agua, aproximadamente tres veces más de lo que tratan. Para conservar agua, los sistemas de ósmosis inversa deben usarse para tratar el agua que se usa para beber y cocinar solamente, no como un filtro para toda la casa. El mantenimiento oportuno y el mantenimiento del sistema también ayudan a minimizar el desperdicio de agua.Si está comprando un sistema de filtro para toda la casa, es importante recordar que dichos sistemas eliminan los niveles residuales de cloro de todo el sistema de plomería de la casa. Sin desinfectante en el agua, las bacterias pueden crecer en las tuberías domésticas entre el filtro y el grifo. Esa es otra razón por la que los expertos recomiendan instalarSistema de ósmosis inversa comercial en el grifo, en lugar de un filtro para toda la casa.commercial ro system work.
Who is the best Commercial RO Systems manufacturers in the world?
We are sure that Chunke Water Treatment is best one in the world for manufacturing, designing of Commercial RO Systems. But there are some well know commercial water treatment manufacturer,for example Culligan RO System, PureAqua and USWater accordingly.Our company advantage for you is good quality with affordable price. Because our commercial reverse osmosis system price is nearly half of European and USA RO System manufacturers, although we are using same brands for important parts.Such as we are using Grundfos, Danfoss for pumps, DOW (Dupont) Filmtec, Hydranautics, Toray RO Membranes, Siemens Controls, Schnieder Electrical Parts. So, all of them are making our Commercial RO System robust, high quality and sustainable.
How to install commercial reverse osmosis unit?
We are producing our commercial water purifying system as skid mounted. So, when you received CHUNKE commercial water treatment system, you just need to connect main cable, inlet water pipe, pure water to stainless steel water storage tank, and wastewater to drain.Here, there is a video how to make connection and how to operate commercial RO unit and gain filtered water.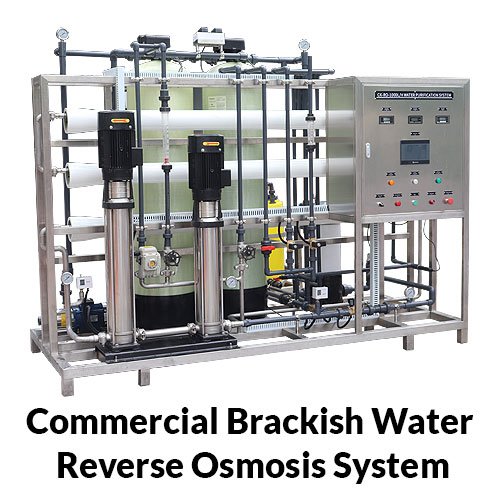 What kind of water source can i use for Commercial RO Systems?
There are types of water source for commercial RO machine.
1. Tap Water: TDS is less than 500ppm
2. Fresh Water: TDS is less than 1000ppm
3. Brackish Water: TDS is less than 10000ppm
4. Sea Water: TDS is more than 20000ppm
After we get your water analysis report, we design Commercial RO System as regards to your water source and analysis report. Because every water has different type of characteristic. Because if your water salinity is high, it means that if your water TDS (Total Dissolved Solids) content is high, we need high water pressure.
Chunke experienced engineering team, analysis your water by software like WAVE or ROSA and, design a system to produce pure water.


How much does a Commercial RO System cost?
Commercial RO System price is dependent on water source, brands on RO machine and material. As Chunke, we are using high quality material for example stainless steel 304, stainless steel 316, high quality food grade U-PVC and FRP material for the system. So, our commercial reverse osmosis plant skid or frame material is stainless steel 304.
To give indicative price for the commercial RO system, you can use our cost calculator accordingly.


Commercial RO System Price:
Hence, a commercial reverse osmosis machine cost is largely dependent on feed water quality and the required product water quality.
The following list details many of the common pre and post treatment components employed with RO systems.
Prechlorination dosing

Media filter

Carbon filter

Water softener

Antiscalant dosing

NSF components

Advanced controller

Advanced instruments

Iron removal filter

High TDS application

Skid mounted system

Calcite filter

Blending systems

Three phase system

Variable frequency drive VFD


Commercial Tap Water Reverse Osmosis System
Commercial Tap Water Reverse Osmosis system is suitable for your municipal or city water. So, we can provide whole house reverse osmosis system for your home.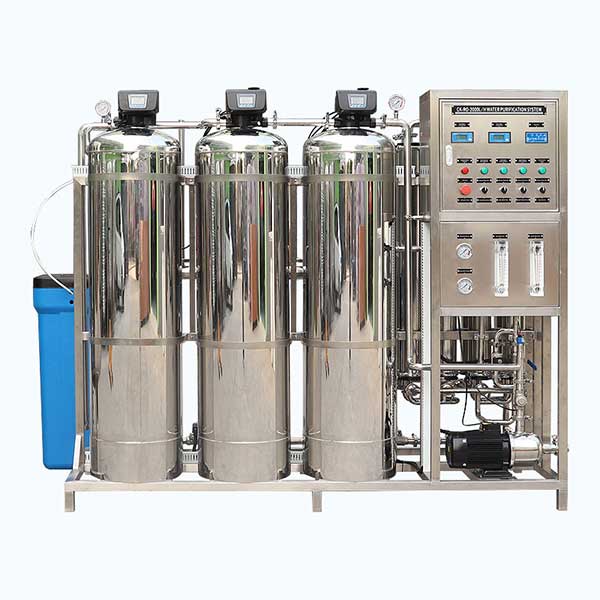 Capacity Range: 2m3 to 72m3/Day
Membrane Diameter: 2.5″-4″
Working Pressure: 150psi
Feed Water TDS: 0-2000ppm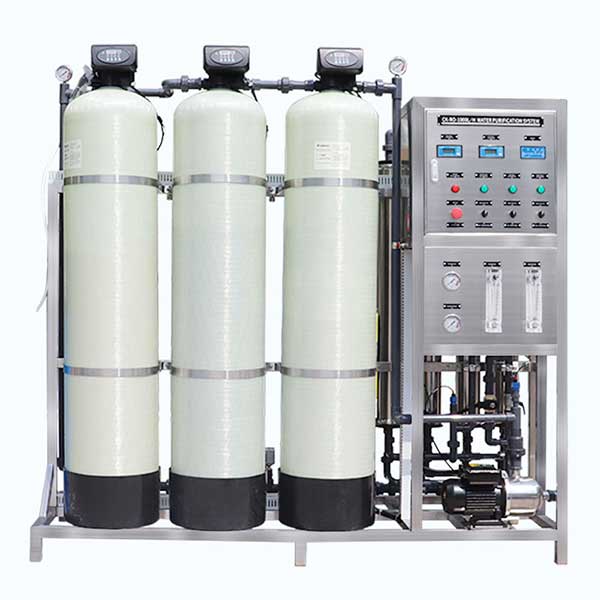 Commercial Brackish Water Reverse Osmosis System
Brackish water source can be deep well, river or lake. If the TDS level is 1000 to 20000ppm, we call this kind of water brackish water. So, it is salty and corrosive, so you need special reverse osmosis machine.
Commercial Brackish Water Reverse Osmosis System

Capacity Range: 2m3 to 72m3/Day
Membrane Diameter: 2.5″-4″
Working Pressure: 150 to 250psi
Feed Water TDS: 1000 to 10.000ppm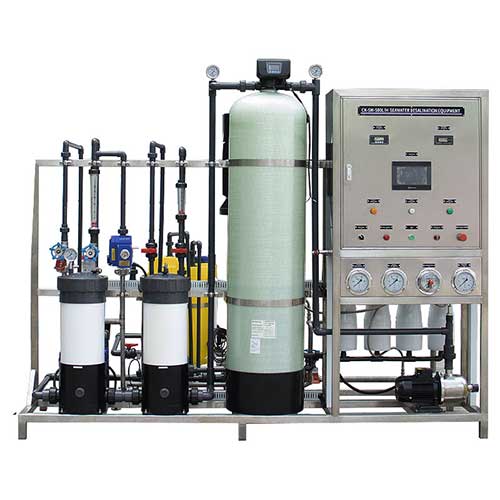 Commercial Sea Water Reverse Osmosis System
If your water source is sea or ocean water, TDS level is around 30000-40000ppm level. So, your commercial RO machine needs higher water pressure. Hence, our technical team design robust and high-quality commercial reverse osmosis water system for you.
Commercial Seawater Reverse Osmosis System

Capacity Range: 2m3 to 38m3/Day
Membrane Diameter: 2.5″-4″
Working Pressure: 700-1000psi
Feed Water TDS: 20000-40000ppm
We have very detailed article for this topic. Reverse Osmosis water does not contain any bacteria and viruses in it. So, it is very healthy, but sometimes, we get question from our customer about removing all healthy minerals from water, and they are asking that is it good or not. In fact, that we are getting our daily minerals from our food. If you want to get al minerals for your body from drinking water, you have drink at least 100-liter water per day, but it is impossible accordingly.
How to choose the right water filter?
First, research your drinking water and find out what pollutants are present. You can find your water system and contaminant health guidelines in Chunke Tap Water Database, which has just been updated. If you have a private well, consider getting your water tested accordingly. Commercial RO System design is based on your water source test report.
Use CHUNKE Water Filter Buying Guide to select the right filter for your family. So, different contaminants can be removed by different types of filters. Click here for a Step-by-Step Guide to Selecting a Home Tap Water Filter.
What are the drawbacks of reverse osmosis filters?
Reverse osmosis systems tend to cost more than other types of filters and require installation under the sink. For many families these costs, plus the cost of replacement cartridges, can be a significant barrier.
Reverse osmosis systems also tend to waste water, about three times as much as they treat. To conserve water, reverse osmosis systems should be used to treat water used for drinking and cooking only, not as a whole-house filter. Timely maintenance and upkeep of the system also helps to minimize water waste.
If you're shopping for a whole-house filter system, it's important to remember that such systems remove residual levels of chlorine from the entire plumbing system in the house. With no disinfectant in the water, bacteria may grow in the household pipes between the filter and the tap accordingly. That's another reason experts recommend installing Commercial RO System at the tap, rather than a whole-house filter.
Si su fuente de agua es agua de mar o de océano, el nivel de TDS es de alrededor de 30000-40000 ppm. Por lo tanto, su máquina de ósmosis inversa comercial necesita una mayor presión de agua. Por lo tanto, nuestro equipo técnico diseña un sistema de agua de ósmosis inversa comercial robusto y de alta calidad para usted.